Interview by Andrew Pridgen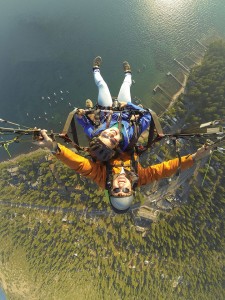 Former Diamond Peak general manager Ed Youmans has spent his life working in the mountain recreation industry. After three decades in ski resort management and 15 years flying paragliders, Youmans recently launched Daydreams Paragliding based in his hometown for the past 17 years, Incline Village. Daydreams Paragliding conducts scenic tandem flights in and around the Tahoe Basin as well as several locations in Northern California, Nevada and Oregon.
A lot of people will look up this summer and see you coming off the mountain on a tandem paraglider. For those who think that's simply too dangerous, what do you say? 
Like any type of flying, there is a measure of risk involved in paragliding. When it comes to tandem paragliding, we work hard to stack the odds in our favor. We only fly in perfect conditions, our equipment is the best money can buy and our pilots all have thousands of flights and hundreds of airtime hours behind them. Paragliding, as we're doing it with Daydreams, is really not a "thrill" sport; almost all of our passengers tell us they're surprised at how peaceful and relaxing their flight is. I think some of them come to paragliding thinking it will be similar to skydiving, whereas the experience probably has more in common with hot air ballooning.
You are one of those guys who managed to turn his daydreams into a business. Is that where the name came from? 
I've tried to keep "earning a living by doing what I'm passionate about" as a theme in my life. Daydreams Paragliding is the peak of that pursuit for me. However, Daydreams Paragliding is named after my favorite local flying site. The ridgeline above Kings Beach is an ideal soaring site during warm weather. Afternoon prevailing southwest winds blow up the face of the ridge and the combination of that wind and the temperature-stabilizing effect of Lake Tahoe make for smooth, buoyant air five to seven days a week during the summer. The site itself got its name from a 1975 film by Craig Beck that is called the "first extreme skiing movie" ever made. The film was mostly a local, cultish sensation but, in addition to some impressive skiing, it featured quite a bit of hang gliding footage—some of which was shot at the Kings Beach site.
You've run a ski resort or two in your day. Now that you're at arm's length from it, can you talk about the state of the ski industry? 
I don't think I'll ever truly leave the ski business; it's too much a part of who I am. During the winter, when there isn't much opportunity or demand for flying in Tahoe, I'm usually driving a snowcat to pay the bills. Skiing is a tough business, though; like flying, the financial outcome is often dictated by the weather—and success is a matter of who can make the most of what Mother Nature hands you.
As far as the "mega-operators" and real estate developers that seem to be trying to corner the market on skiing in Tahoe (and everywhere else), this is really not a good thing for consumers, snow sports or the local economy. The centralization inherent in large-scale corporate ownership, to me, steals the "soul" from individual resorts in favor of creating an operation "just like the other operations." The character, vibe, "feel" of a ski area used to be the primary reason people chose one area over another. A friend of mine with a long history of managing very large resorts calls this the "DNA" of the ski area—a component developed over the life of the resort, usually a reflection of the personalities that built and shaped the resort since its first opening day. Mega-operators and real estate developers have no understanding or interest in things like folklore or character, so they install a management team that's firmly focused on the balance sheet, without so much as a passing thought for the history of the resort or the personalities that gave it character.
Building on that, you always got people, especially kids, on the mountain cheaply, creating lifelong skiers and riders.
During my ski business career, each time I moved up the ladder I got a little further from the customer. With Daydreams Paragliding, I'm one-on-one with the customer through the whole experience, from first email or phone contact through touchdown. That's been the greatest part of this business for me, to work with a guest all the way through their experience and get to see the big smile on their face when our feet touch the ground at the end of a flight. Kids are far and away my favorite passengers. I've taken my three-year-old flying and I've gotten several five through seven-year-old customers into the air. They're mostly fearless and they never hesitate to let you know how excited they are to be flying. Tandem paragliding is really too equipment- and labor-intensive to do much discounting, but every time I take a child flying I have to figure I've changed their perception of the world and what's possible at least a little bit.
You became a father just before you hatched Daydreams Paragliding. How has fatherhood informed your life in the mountains? 
For me, the greatest thing about being a father is being able to show my son all of the things that are great about living in the mountains. Introducing him to the things I love to do has been a journey of re-discovery for me and a reminder of why I've always had such an attachment to the outdoors. The tough part is that my son is the offspring of two adrenaline junkies—he's fearless and has absolutely no concept of his own mortality. Every day I have a better understanding of why my mom worried about me when I was a kid.
More specifically, do you hold back a little more when you're out doing what you love? 
I really try not to hold back at all. With things like paragliding, being passive or hesitant gets you in trouble really quickly. That said, I do make sure my life insurance is always paid up and I probably think a little longer and harder about any new adventure I've considered since my son was born. I've always put in the time and work, though, to eliminate as much of the danger involved as possible.
Back to Daydreams: Are your clients daredevils? Do they just want to learn how to fly? Are they bucket listers? Or do they simply want to see Tahoe from a different point of view? 
The phrase "bucket list" is one that I hear almost daily during flying season. Most of my passengers are looking for a unique experience or just an unusual way to see Lake Tahoe. More often than not, my clients are longtime annual visitors to Tahoe that have done all of the "mainstream" activities at The Lake and are looking to try something completely different. Flying tandems has taught me that women are more inclined to try this type of adventure than men. I probably fly two or three women for every man. I haven't been able to figure out the reason for that one yet.
And would you say you have the best views from any office in the Basin? 
At least once a week during flying season one of my passengers asks, while we're in the air, "is this your job?" And when I say yes, they inevitably respond with "you have the best job in the world!" They say the customer's always right—who am I to disagree?
Category: Outdoors, People, Summer, Uncategorized