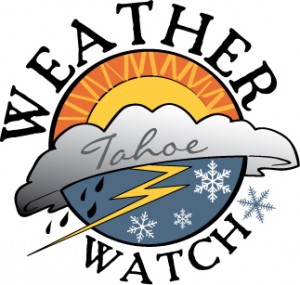 Ed's note: Welcome to Tahoe Weather Watch, TQ's weekly look ahead to the weekend travel and snow forecast. We've teamed with www.nevadacountyweather.com's Giovanni Paredes to bring you this  feature. Paredes has been an official National Weather Service Weather Observer since 2001 and has operated a professional weather station since 2002. Each week we'll look at resort conditions for the upcoming weekend, the chance for snow and travel conditions so you safely get to Tahoe and back! Without further ado…
By Giovanni Paredes
The sky may start to cloud up as the wind picks up over the Sierra passes, but I don't want to get your hopes up for epic snow and days of storminess. However, snow is in the forecast starting late Wednesday for the Tahoe Basin and the Northern Sierra as a mostly dry storm pushes in from the north, dropping up to 10" of snow at the Sierra Crest and up to 4" around Lake level. The high pressure ridge looks to rebuild late Friday giving way to a much cooler, yet dry, weekend with lows in the teens and daytime highs back in the mid 30s by Saturday.

We are in a rut. Overall, January was dry and February looks to continue that way, but there's a major pattern change on the way. It may take a couple weeks for it to arrive, but eventually a trough will set up offshore and usher in a couple weeks of on and off pacific storms into Northern California. I've seen this pattern many times and I bet March will be a major snow month for Tahoe.
Traveling into the Sierra this weekend won't be too much of a hazard and you may be surprised on how low the snow will fall over the Western slope. Even Nevada City may get a few lingering snow showers as the storm departs but not without first lowering the snow level to around 2,500Ft. Highway traffic should be light and winter driving conditions will be mostly easy, but pack for winter driving as unstable weather conditions may persist over the Crest on Saturday before clearing out by Sunday morning. Have a safe drive.
Below is the 5 day precipitation forecast. Notice how the Sierra is missing out on the action?