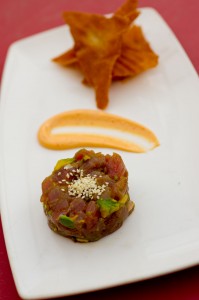 Ed's note: Welcome to Tahoe Eats, TQ's weekly review of a local restaurant and a new feature here on the website. This week, TQ food blogger Andres Quintana takes a look at Moody's Bistro, Bar & Beats in downtown Truckee. 
By Andres Quintana
Moody's Bistro Bar and Beats is a self-proclaimed jack-of-all-trades: A bistro, a bar and live music venue. It avoids falling into a pigeonhole trap of doing too many things, failing to do anything well. It has an incredible location in the heart of downtown Truckee in the first floor of the historic–and rumored to be haunted–Truckee Hotel. Moody's maintains a steady flow of patrons. Some prefer to sit in the updated and comfortably rustic front bar area, while others prefer the more understated, elegant beauty in the main dining room.
The menu is for both the bar and dining room, and that menu is one of the most diverse, unique and incredibly delicious menus in the Tahoe area. I say strangely unique because of the broad range of excellently executed dishes. Appetizers from truffle infused deviled eggs to beef tartare, and everything in between (including deep-fried calamari and house made corn dogs). The recent addition of what I believe to be the only brick pizza oven in the North Lake Tahoe area creates some of the best house made pizzas I've ever had, also with incredibly unique toppings, one with Dungeness crab and ricotta, another with Chanterelle mushrooms and goat cheese and of course the traditional mozzarella and basil, and Italian sausage pizzas as well.
It should also be mentioned that throughout their menu Moody's makes it a point to emphasize their commitment to fresh, in season, sustainable and, whenever possible, locally sourced ingredients. The entrees are equally diverse and equally good. From fresh and sustainably sourced fish, which changes regularly to what I believe to be the best burger in the Tahoe area. There is something for everyone on this menu and that no matter what you pick, it will be delightfully delicious.
For dinner, I chose to sit at the bar, it's a great location to get a great sense of the restaurant as a whole. Whether a seasoned local or first-time visitor the bar feels like a friendly home away from home. Moody's bartenders are quick with a drink and make incredible recommendations for drink pairings with the menu.
The ahi poke(pictured here, photo courtesy Moody's), a raw ahi dish served with fresh wonton chips and a chipotle aioli was better than similar dishes I've had in Hawaii. It was sweet from the creamy avocado, spicy from the chipotle, with the perfect crunch on the light wonton chip, allowing diners to savor every delicious bite of the perfectly treated fish. For my entrée I chose the duck breast. I think it's great restaurants can put duck on their menus now without being austere or pretentious. This duck was not your mother's favorite French restaurant's duck. It was served with a perfectly balanced lady finger apple and huckleberry sauce, a devilishly silky parsnip puree and of course the perfectly executed and beautifully presented duck breast.
This was the first time I'd ever ordered Moody's dessert, and I went with Apple Crisp, a favorite of mine. It was delicious, though not perfect. The almonds were a bit burnt and if anyone has ever had burnt almonds before you know it's a flavor that tends to stick with you. The house made vanilla ice cream was good, not great though because it was a bit thin, almost watery but still had a great texture and amazing flavor. The dish as a whole was well balanced, sweet and savory the way a true apple crisp should be.
Moody's is a place for everyone, families, old friends, casual dinners, romantic dinner dates, and by far the best place in Truckee to start for a night out on the town.
Category: Wine & Dine