Written by Kristin Close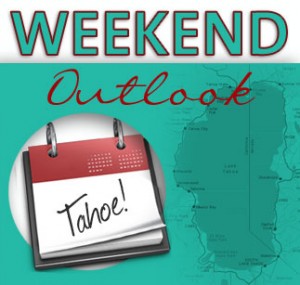 We've been enjoying some spring-like weather this week, and this weekend looks beautiful. Check out some of the events going on here in Tahoe.
Thursday, August 7
-Live Music – Concerts in the Park, Gatekeeper's Museum, Tahoe City
Great music in a beautiful setting. With a variety of folk and blues, you're bound to have a great time grooving around on one North Lake's most beautiful lakefront parks.
Friday, August 8
Lake Tahoe Concours d'Elegance
Concours returns to Obexer's on Lake Tahoe's West Shore after splitting with Sierra Boat Company early this year. The two-day wooden boat event, featuring Barrelbacks this year, begins at 10 a.m. on Friday and 9 a.m. on Saturday. Check the website for tickets.
-Artist Reception at North Tahoe Arts
5 p.m. – 7 p.m.
Two exhibits featuring multi-talented artists showing works in painting, collage, jewelry, glass, ceramics and metal work.
-AEROSMITH at Harveys Outdoor Arena
7 p.m.
AEROSMITH with special guest Slash featuring Myles Kennedy and The Conspirators at the 2014 Lake Tahoe Summer Concert Series at Harveys Outdoor Arena.
Purchase tickets here.
Saturday, August 9
10 a.m. – 11:30 a.m.
FREE guided tour provided by the North Lake Tahoe Historical Society. The tour topics include the Truckee River, dam, water rights, flow rates, rafting, water clarity, historic sailing vessels, motor boat racing, fish and much more. The group will meet at the Gatekeeper's Museum. The tour is about 3/4 mile along a flat bike trail.
-Chris Isaak at MontBleu Resort Casino & Spa
9 p.m.
Chris Issak is an American rock musician. Singer and actor, he is known for his hit song 'Wicked Game' and his numerous roles off-beat films
Purchase tickets here.
Sunday, August 10
-Pacific Fine Arts Festival at Homewood Mountain Resort
10 a.m. – 5 p.m.
The Homewood Fine Arts and Crafts Festival will feature more than 50 artists showcasing arts and crafts, paintings, ceramics, jewelry, woodwork, photography and much more.
August 9 – 10
The Gatsby Festival is a two-day event at the Tallac Historic Site held each year the second weekend in August. Vintage car shows, musicians and jugglers, a raffle, special sales and the sale of the annual Gatsby poster.
Category: Arts & Culture, Outdoors