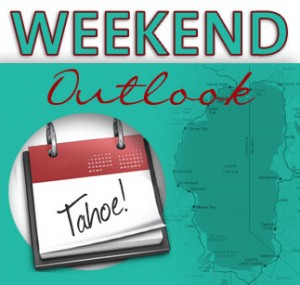 After a recent hot spell it's back to beautiful here in Truckee Tahoe as we head into the last weekend in July (already!!). The forecast is calling for perfect temps–about 80 during the day and 60 at night–and a slight chance for thundershowers. As usual, the activity calendar is packed for the weekend here–music, races, beach activities and more. Without further ado, let's get to the outlook:
Thursday
As usual, Truckee Thursdays is sure to be a blast this week, as the band Jelly Bread plays the beer garden and kids are invited to enjoy the bouncy house and balloon animal artists.
If magic's your thing, the Horizon Casino Resort is hosting Alex Ramon and his mix of magic and comedy show, "Illusion Fusion," starting at 8 p.m. Ticket information is here.
Friday
TQ will be manning a booth the South Lake Tahoe Wooden Boat Classic, which begins Friday at noon at the Tahoe Keys Marina and continues all day Saturday starting at 9 a.m. The  show features a number of classic boats from the 1930s this year, including Joe Dimaggio's famed Joltin' Joe. Come find our booth!
If you're an art fan you have to check out the Couer D'Alene Art Auction at Reno's Peppermill Resort. TQ will have issues there and it's an amazing place to see some of the best art in the West.
Dudes. DUDES. Starting at 6 p.m. on Friday, as usual, Kings Beach will host its live Music on the Beach, which is an awesome event to take the whole family to. But at intermission, Teva and Tahoe Mountain Sports are sponsoring a knee-deep footrace. Color us stoked. The race will pit contestants against one another in age groups to see who can traverse knee-deep water the fastest. It just sounds hysterical/awesome. The deets are here.
Saturday
Starting at 10 a.m. wander down to the Squaw Valley Fine Arts and Crafts Festival. The festival features tons of regional artists and some really cool jewelry, clothing and art.
See our favorite dangerous Brit comedian, Russell Brand, play MontBleu at 8 p.m. Brand, who has starred in TV shows such as "Brand X" and movies like "Get Him to The Greek" puts on a tremendous standup show. Tickets start at $75 and are available here. 
Sunday
Take it easy on Sunday starting at 12:30 p.m. with (Free!) live music from Natalie Gelman in the Village at Northstar.
Category: Arts & Culture, Wine & Dine