Happy ACC weekend, Tahoe!
Valley temperatures are expected to hit triple-digits on both sides of the Sierra starting as soon as Friday this week, so expect a lot of traffic coming up to The Lake with you. Luckily, there are a lot of beaches and activities to keep you entertained up here on the mountain. Here's what to look forward to this weekend here at Tahoe, where it'll get toasty, by our standards:
Thursday
South Tahoe is going off this weekend with the American Century Golf Tournament at Edgewood. Tonight, Slightly Stoopid and Atmosphere are playing Montbleu's outdoor events center. Tickets are here. 
Easy Leaves provides the beats tonight at Truckee Thursdays, where the Humane Society of Truckee-Tahoe is the non-profit sponsor. If you've never been, Truckee Thursdays are a blast–live music, vendors keep their shops open late and tons of great drinks and dinners are to be had in Truckee's historic downtown.
Friday
As the ACC continues, Rascal Flats and The Band Perry take the stage in what's sure to be a lively show at Stateline's Harvey's Outdoor Arena Friday night. Ticket information is here.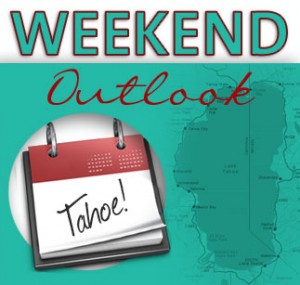 If you're on the North Shore, the Soft White Sixties and Moondog Matinee play the Crystal Bay's Crown Room at 9 p.m. It's free!
Saturday
On Saturday, Northstar California hosts the Tahoe Trail 100k Mountain Bike race, a 33-lap loop that features both the beauty of the North Shore and Martis Valley. More information is here. 
Starting at 4 p.m., Montbleu Casino Spa and Resort hosts Bass Camp, an all-day, all-night electronic music festival at the Outdoor Arena in Stateline. Get ready to dance the night away. Information on the show is here.
Sunday
Grab your friends and head over to South Lake Tahoe's Apres Wine Company at 5 p.m. for its Sunday Sipper Series, a casual wine tasting for only $10. Information is here.
Wind down your weekend with a full-moon kayak tour from the crew at Tahoe Adventure Company. The paddle starts at 6:30 p.m. at the Tahoe Vista State Recreation Area. Information on reservations is here. 
asdf
Category: Arts & Culture