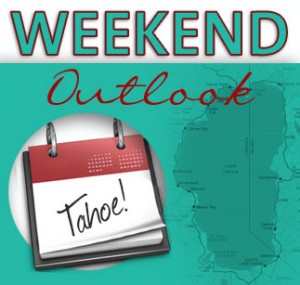 This weekend features the longest day of the year (Friday), a full moon (Saturday-Sunday), and a glorious-looking weather forecast. If you're not up here and going full-tilt, you're missing out.
Here are a few reminders from us about what's going on at The Lake and in Truckee this weekend. If you have an event to add, please do so in the comments. If you'd like a future event included, please email kyle@tahoequarterly.com to get it on here. Without futher ado:
Thursday
Tonight is the year's second Truckee Thursday in downtown Truckee. Check out Jesse Dunn and Jenni Charles from 8-11 p.m. at Moody's Bistro Bar & Beats downtown.
Or, pull up a chair at your favorite sports bar, as game 7 of the NBA finals between the Miami Heat and San Antonio Spurs tips off at 6 p.m. on ABC.
Friday
The curtains rise at 8 p.m. on Lake Tahoe Community College's performance of the Broadway smash "Rent." Information is here.
At 9 p.m. in the Crystal Bay Club's Crown Room, guitarist Junior Brown and the Easy Leaves are set to entertain the crowd. Tickets are here.
Saturday
The Lake Tahoe Outdoor Arena at Harveys Lake Tahoe welcomes The Steve Miller Band at 7 p.m.
Starting at 8 p.m. in honor of the biggest full moon of the year, Squaw Valley is hosting a 'Supermoon' Party with a DJ at High Camp. Details here. 
Sunday
The beautiful Burton Creek Trail Run kicks off early in the morning and goes as long as you want to, with 6k, 12k, half marathon and 50k distances. Starting at the Highlands Community Center near Tahoe City. Event details are here. 
Tahoe Adventure Company is hosting a full moon kayak Sunday night. Trips leave at 6:30 p.m. from the Tahoe Vista recreation area. Find out more and make a reservation here.
 -Kyle Magin
Category: Arts & Culture, Outdoors, Performing Arts, Summer