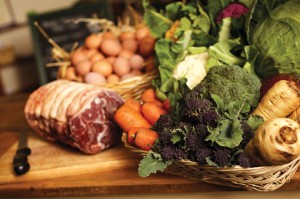 Tahoe chefs rely on these local suppliers to inspire their menus and stock their larders
Written by Susan D. Rock
The big Sysco rig making a restaurant delivery is a familiar sight. But in recent years, the push by consumers and chefs for fresh, local, seasonal and sustainable ingredients led to the return to a lesser-known commodity: the local purveyor. Here are some of the area folks who provide inspiration and ingredients, from the freshly baked breads to well-aged meats that make Tahoe menus unique.
Supplying the
Small Gems
Evan's American Gourmet Cafe, housed in a small cabin on Emerald Bay Road, has been a South Lake Tahoe fixture for nearly 25 years. Owners Evan and Candice Williams, along with longtime chef Jimi Lasquette, depend on a list of local suppliers to keep their award-winning restaurant just that.
Like many other area eateries focused on the short trip from farm or processor to table, the Williams' go-to meat and seafood supplier is Sierra Meat & Seafood, a third-generation, family-run business with its own 50,000 square foot processing plant and storage/distribution center in Reno. It delivers many of the mainstays destined for the restaurant's classic, pan-Asian-tinged menu, from rack of lamb to venison loin.
"They are a quality vendor who sells premium products and services our account faithfully," says Evan Williams.
Come summer, when possible, the Evans crew hits the weekly El Dorado County Certified Farmers Market at the American Legion parking lot, where growers from the Sierra Foothills down to Sacramento and the Central Valley sell their produce just picked from the field. It doesn't get any fresher than that.
Behind the Vail
Northstar California may be corporately owned, but tries to takes a local perspective when it comes to supplying its seven culinary outlets. Seasonal squash and mixed braising greens come from the organic Lattin Farms in Fallon, Nevada, says Kelly Rodriguez, food and beverage manager for the resort. Breads are delivered by Franco Bakery in Sparks or Truckee Sourdough.
TC's Pub in the Village at Northstar buys its best-selling chicken wings from Fulton Valley Farms, which raises chickens in the Sierra Foothills without antibiotics, animal byproducts or hormones. The product leaves the dock no later than 48 hours after being processed, ensuring utmost freshness, says Rodriguez.
Local here starts before the food is even served, in the cocktail department, spurred on by a little friendly competition amongst the resort's bartenders. The Beefy Mary served at the new on-mountain Zephyr Lodge is garnished with beef jerky from Carson City–based Jerky Junction. And, at the Tavern 6330' in the village, the Bloody Mary is mixed with Tahoe Blue vodka, distilled by a Tahoe Spirits, a South Lake–based outfit that donates a portion of its proceeds to preserve The Lake.
Big Guys Get Small
The Hyatt Regency Lake Tahoe Resort, Spa and Casino in Incline Village last year launched "Food, thoughtfully sourced, carefully served," part of a company-wide food and beverage initiative that focuses on purchasing fresh, local food and beverage selections, which in turn supports the community and the environment.
"We are encouraged by Hyatt Corporation to support the local community and vendors," says executive chef Alan KÜbler. Sourcing through area suppliers "also helps distinguish us from a Hyatt in another city."
For example almost all of the bread products served throughout the resort's restaurants (including Lone Eagle Grille, Sierra Cafe, Cutthroat's Saloon and Tahoe Provisions, Stillwater Pool Bar and Lakeside Beach Bar and Grill) are baked by Truckee Sourdough. Reno-based Great Basin Brewing's Icky IPA is also a staple at the resort. "It has been rewarding to develop relationships with the local vendors and product," says Wade Eybel, food and beverage manager.
Tahoe Lobster Company, owned by Fred Jackson, supplies crayfish he traps around Tahoe for the surf-and-turf platter in the Hyatt's restaurants. "Not only is he local, but it is right out of The Lake and the harvest contributes to the reduction of non-native species that affects clarity," says Eybel. "That is a win-win-win for healthy people, community and environment."
Category: Wine & Dine