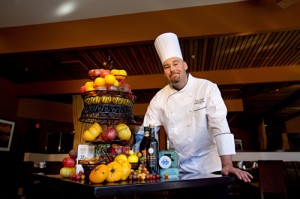 Born and raised in Pennsylvania's Pocono Mountains, Jason Friendy, 37, graduated from Johnson & Wales University with a degree in food service management. Executive chef at the Resort at Squaw Creek since 2008, Friendy specializes in regional American cuisine.
What's your favorite ingredient?
Tomatoes. We use them in chutney (see recipe at right), salsa, marinara sauce, veal stock and soups. In the summer at Six Peaks Grille, we serve a great heirloom tomato salad and in the winter we make a very popular tomato bisque.
What's in your fridge at home right now?
All the ingredients to make shrimp ceviche: shrimp, ten limes, one big bunch of cilantro, carrots, cucumber, two serrano peppers and a red onion. The rest is in my pantry: some small, super spicy chilies, salt, pepper and olive oil. Secret chef's tip: Coat your fingers with olive oil before handling hot chilies. It will help later when removing the leftover heat from your hands.
Where do you get inspiration for your recipes?
The seasons, my mood, my wife, hotel guests. What doesn't inspire a chef's recipes? Lately, I've been developing vegan/vegetarian menus. We get so many requests for them now.
What do you order when you go out?
I grew up in a Hungarian-Italian family so I crave the old favorites I grew up on: spaghetti and meatballs, pork chops with cavatelli, sauerbraten with dumplings or goulash. Anything that is braised is OK by men, which is not an easy request here in California. My way around this is to eat the restaurants I manage. I often design my menus around the foods I love (a perk of running a large hotel food service operation.)
Favorite childhood food memory?
One of my favorite memories is making poppy seed rolls with my Hungarian grandmother. My grandfather had a great garden and grew tomatoes, cucumbers and bell peppers; my family would have canning parties at the end of summer. I was exposed to all types of cooking techniques daily. It's definitely why I chose food as my career.
Must-have kitchen tool/gadget?
Right now it's the 60-gallon steam kettle in my banquet kitchen. We make all of our stocks for the hotel there.
What do you like to do when you're not in the kitchen?
I'm always in the kitchen! Though, I do enjoy my commute to work on my bicycle. I ride from Tahoe City on the bike path down the Truckee River, even in winter. Something about the wheels turning under me really makes me happy. I also enjoy spending time with my family and skiing just a little on a powder day.
Favorite Squaw Run?
Bullet. It's about halfway down off Headwall. Some Sundays, our general manager leads a group of hotel guests and staff down the mountain and we all make turns together from top to bottom. It really doesn't get better than that! By Susan D. Rock.
Category: Wine & Dine