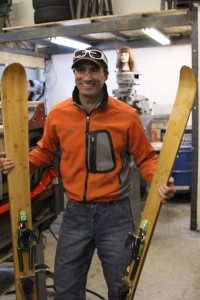 In search of summer snow, I've traded Tahoe for Mt. Shasta's south face in mid-June. I'm teetering atop a pair of skis I've lovingly handcrafted from sustainably harvested wood, about to tilt them into their maiden voyage down Avalanche Gulch.
I briefly wonder if my quest is sheer folly: riding a pair of unproven skis on the muscular contours of a 14,000 foot peak?
Besides, conditions are inauspicious. The snow has gone from corn to bottomless slush, runnels as deep and wide as bowling ball gutters cleave the slope and pumice sheared from Casaval Ridge pockmarks the face. I pause, take one last glance at the flawless bamboo topsheets clamped to my cherry red telemark boots, soon to be excoriated by the rigors of the descent, and wonder whether they'll snap like beetle-infested pine when put on edge.
I shove off.
The mentor
A few months ago, it never would have occurred to me to make my own skis, let alone test drive them on such a difficult hill. After all, I already owned 11 pairs, some dating to the early 1980s. But my friend and neighbor Kevin Truax, who had taken to building his own, convinced me otherwise. A brilliant Reno-based metal artisan renowned for his meticulously forged works of iron, KT, a freeheel backcountry skier who likes his skis fat, his slopes steep, his snow cold and his PBR colder, is a DIY kind of guy. He began tinkering with ski designs in 2005 and, encouraged by successful product testing in Hourglass Bowl near Mount Rose, he constructed a jig and a ski press, cranked out another 30 pairs to ensure he had the process wired and, when he saw it was good, shared with his friends.
By the time I caught up with him in early spring of 2010, an impressive quiver of variously proportioned and well-worked skis were neatly racked in his gear room. I advanced on a pair of Rubenesque all-mountain skis, hefted them and took their measure: 134 millimeters at the tips, 110 millimeters underfoot and 125 millimeters at the tails. Sensing my ardor, KT offered to help me build my own. I bit hard, justifying the time and expense of the project (replete with the risk of severed digits) as an exercise in self-reliance and an object lesson in sustainable manufacturing.
The materials
The build went without incident, if not a degree of the hesitation blues, based on myriad material choices and weighing the conflicting opinions of friends and advisors. While I danced around the issue of deviating from materials that, if not so green, were proven quantities, the spring snowpack was turning to meltwater. I mused on how it would be easy to just be done with it, and jump on the season's bumper crop of corn.
Fortunately, KT gently pushed me forward. With his help, I sculpted metal edges and applied them to p-tex bases. I laminated rashers of sustainably-harvested poplar and bamboo, profiled them into a feathered core, blanketed the wood between swaths of triaxial fiberglass cloth and added a top sheet of bamboo veneer. We slathered the works with epoxy and compressed the whole shooting match with the ski press, a contraption that resembled an oversize panini grill.
I chose fiberglass over hemp, marine epoxy over bio-resins, FSC-certified poplar over scrap wood. I could have sourced recycled p-tex bases, or stripped them from old skis, but elected to use inventory on hand, minimizing waste by maximizing the raw materials. And if the skis that emerged from the ski press weren't completely green, I didn't care; they looked golden to my eyes. All told, about ten hours of work and 60 days of angst.
Finally, time to take these skis on a trial run.
The motion
After enduring months of sustainability research, the inscrutable opinions of mechanical engineers, hours of lurking on ski builders' chat forums, fretting over the life cycle of skis, compromising on materials and learning to tame recalcitrant routers, here I was, perched above Helen Lake, still wondering, despite all the quality control, what the hell was going to happen in the next 30 minutes.
I plunged into the fall line. I needn't have worried. The skis plowed through the mottled snow with aplomb, skimmed across the runnels and sun cups, and transported me to the base of the mountain intact. Maybe my little experiment in ski building wouldn't rival the handiwork of Snowshoe Thompson, who carved ten-foot skis from solid oak and crossed the Tahoe Basin purely under his own power— but the journey had been eminently satisfying, and tremendously edifying. By Brad Rassler. TQ