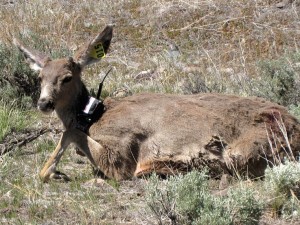 Satellite radio collars allow biologists to track the millennium-old migration patterns of Nevada's mule deer
Written by Jackie Ginley
In Truckee's Tahoe Donner neighborhood, the seasonal appearance of mule deer are a welcome sight. They are among the first out-of-towners to arrive in the spring, heralding the beginning of long days and warm weather, and the last to leave in the fall, when the aspen leaves yellow and litter the trails around Alder Creek.
But what caught my attention last summer was a mule deer crossing Hirschdale Road with what looked like a 1980s transistor radio, complete with antennae, strapped to its neck. This was near Boca Dam, a popular migration route, and while deer are not an uncommon summer sight here, the deer sporting the radio collar was certainly bizarre.
The doe crossing with the road with her fawns that day was one of less than 100 deer outfitted with GPS and satellite radio collars in recent years to study the migration patterns of the Loyalton-Truckee deer herd, which have traveled from Nevada to California for a millennium.
Mule Deer Migrations
"Whether you're talking about direct effects like increased roads, fences, urban encroachment, or more indirect effects such as climate change, less predictable weather patterns, and altered habitat conditions, mule deer populations face tough times ahead. But these amazing creatures are also incredibly adaptable," says Cody Schroeder, a Nevada Department of Wildlife specialist with the Mule Deer Management Program. "They can persist in unfavorable conditions, have become somewhat adapted to urban and agricultural habitats, and can survive for several months during winter with relatively little to eat. That to me indicates that mule deer populations will likely never reach the levels they were at during the 1950s or even the 1980s, but will persist at some level for the next several thousand years or so, which is pretty cool."
In many ways, the deer are not unlike us in that they like to summer in Tahoe. But while we might be no less healthy for the lack of a July vacation to The Lake, the deer depend on their summer alpine excursions to feed on the budding green vegetation that follows the melting snows. The genetic urge drawing these large mammals from Nevada to the high alpine fawning meadows around Northstar's Mt. Pluto, for example, is so strong that deer literally risk death.
"They are creatures of habit, and they like to migrate along the same path," says Sara Holm, a biologist with the California Department of Fish and Wildlife. "The way they migrate from Nevada to California in the spring is the same way they will go back."
Given the realities of suburban sprawl in the Truckee Meadows and Sierra, the Loyalton-Truckee herd has been forced to devise creative paths across such trafficked routes as Highway 395 and Interstate 80. Fatalities are the obvious consequence.
"They'll do what they know, so if their mother taught them to go across the highway, that's what they will do," Holm says.
In an effort to stem death tide, biologists, government officials and interested members of the public sat down together ten years ago to create the Highway 89 Stewardship Team. The goal was to reduce the number of dead deer along the 25 mile–stretch of Highway 89 between Truckee and Sierraville. That work laid the foundation for the construction of highway underpasses, as well as academic partnerships to create a grade school curriculum around the studies.
Monitoring Movement
In order to better study mule deer migration, biologists with the Highway 89 Stewardship Team worked in collaboration with the Nevada Department of Wildlife to outfit deer with satellite radio collars. Using dart guns and controlled drugs, the biologists immobilize the deer and fit it with a collar, then release it back to its herd.
The battery life of the collars is limited, so scientists have programmed them to "remote detonate" after 16 to 18 months, Holm says. Collecting the collars, with their invaluable cache of data, is just as challenging as getting the deer outfitted. (Holm recalls a few that have taken her an entire day of hiking into remote, roadless canyons.)
"We've even had recoveries under snow, where you can hear it, but you can't see it," she says.
The radio collar program allows scientists to see how housing developments, freeways and forest fires are affecting the natural migration of the species. The data collected is tangible, helping to document the movements of the herd and enabling biologists to pair with community members and hunters to ensure the viability of the mule deer.
The Loyalton-Truckee herd is estimated to be around 3,200 deer; their numbers are in slight decline, mostly due to habitat loss.
In some areas, the decrease in deer is already noticeable. In Somersett, a country club development just east of Verdi in Nevada, the seasonal appearance of deer was once so common you had to drive around them in the subdivision.
"There are still deer using Somersett. We have tracked deer and recovered collars there," Holm says. "The buildup in an area that was historic deer winter range caused deer to initially go there, however, with less habitat and more homes, it was no longer an area that could sustain them, so fewer deer are using it."
Deer in the Classroom
A few years ago, biologists on both sides of the state line partnered to create the "Adopt A Deer" program, which brought the science and stewardship goals of the program into local classrooms. By the summer of 2011, with coordinating help from Save Open Space (SOS) Glenshire and financial aid from the Martis Fund, more than two dozen deer had been outfitted with radio collars, and academic outreach allowed grade school students in Glenshire and across the state line in Verdi to monitor their migration from Nevada to California and back again.
"There has to be a balance between development and wildlife," says Lori Kelley, a 12-year Glenshire resident and founding member of the SOS group dedicated to protecting open space in the migration corridor. "The deer are part of a healthy ecosystem. They were here first, and they're a big part of what makes this place what it is."
Jackie Ginley is a Reno-based writer.
Category: Natural World, Outdoors